Patient Story
13 February 2020
I Am And I Will
Written by Breann Lujan-Halcon
Cancer may have snuck up on these survivors, but they fought, and won.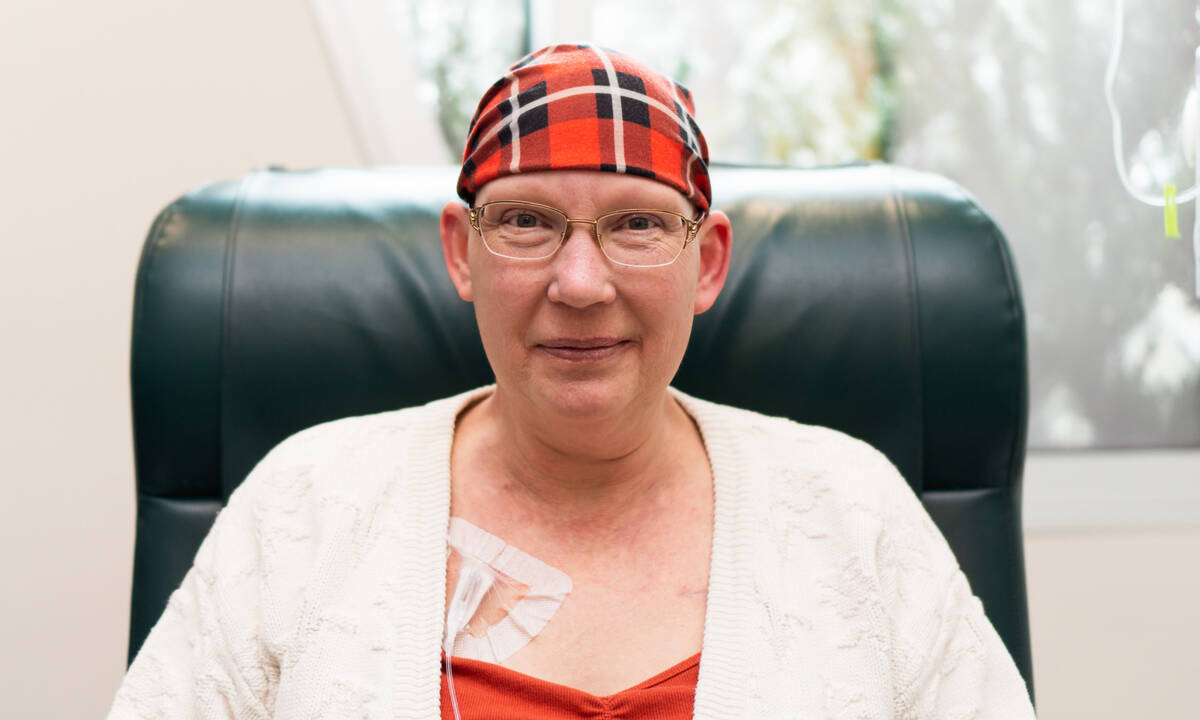 Every cancer diagnosis is different, every patient, treatment and outcome differs.
We sat down with patients and staff of the Meredith and Jeannie Ray Cancer Center to hear their stories. For these survivors, their stories share a common theme- they acted.
Willis: Colon Cancer Survivor

Willis Williams fought and won his fight against colon cancer, but it took persistence and listening to his gut.
"Back in 2005, I had some bleeding. I took it to two doctors and they told me it wasn't a concern," Willis recollects. ​"It got worse, so I took it to Dr. Nachtigal. He said, let's do a colonoscopy." Willis was 47 and he had never had a colonoscopy in the past. His previous doctors told him he was dealing with hemorrhoids. Dr. Nachtigal, a local general surgeon, was about to find out that it was not just hemorrhoids.

"Dr. Nachtigal is a very upfront person and he said, you have colon cancer, we need to deal with this soon." Willis, who was born and raised in Elk Mountain on a ranch his whole life, had driven 65 miles into town that day to receive that news. Knowing that the ranch life slows down for no one, Dr. Nachtigal called the Meredith and Jeannie Ray Cancer Center. It was there that Willis was put in touch with Dr. Merrill, the Medical Director of the Cancer Center at the time. Willis was in to see Dr. Merrill that same afternoon.

"There was great concern thatthe cancer had jumped tract and had mutated but it hadn't so then they jumped right on a program, started radiation. I went through
6 weeks of radiation and chemo pills and then after that I went to Omaha to a colon rectal cancer place where they operated."

In Omaha, Willis saw hematology and oncology specialist, Dr. Tarantolo for high level testing and colon surgery.
"Dr. Merrill told me, his first comment was, ​'I can cure this but you're not going to like it. But we can cure this', so I had great confidence in him."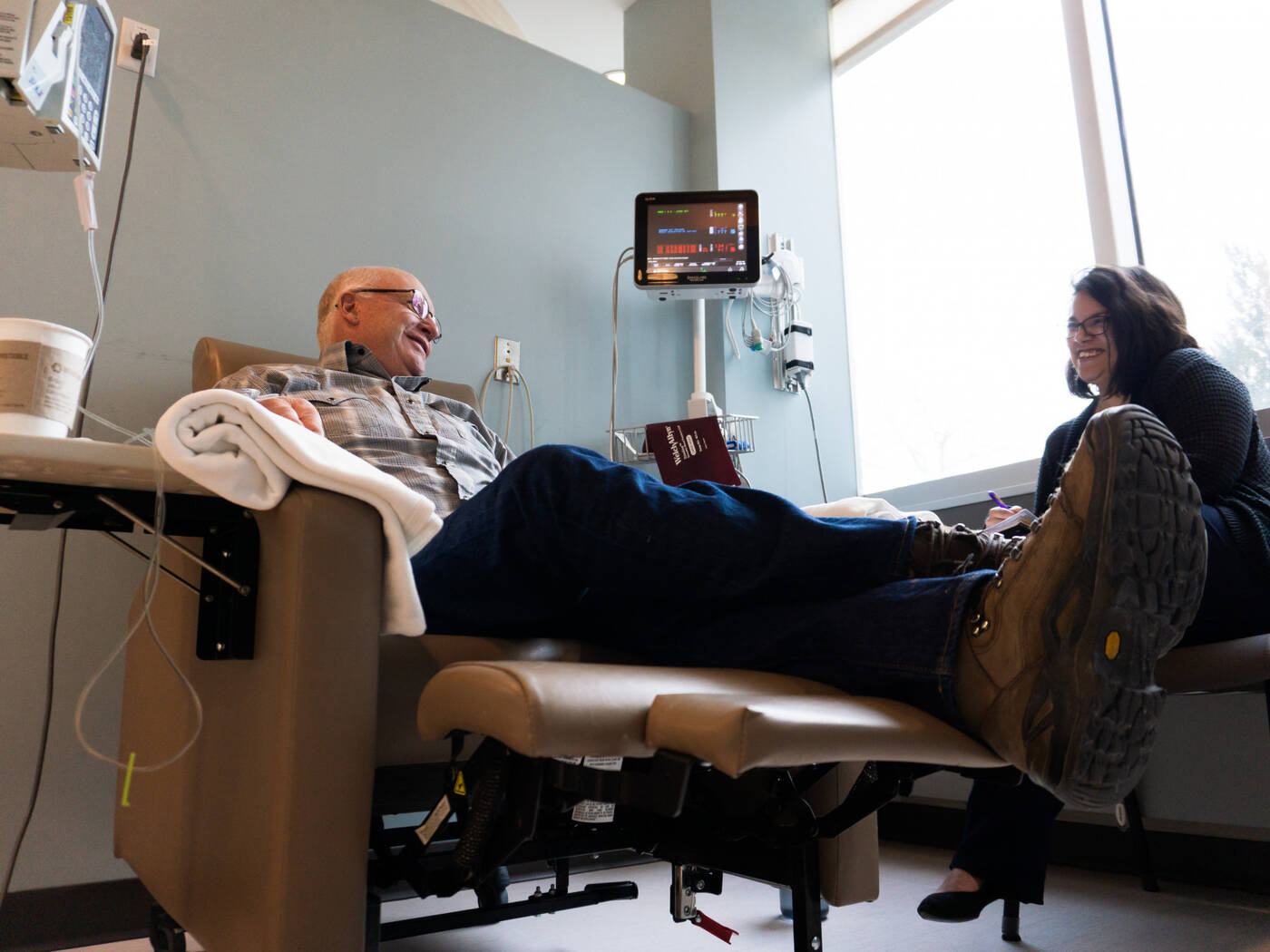 Willis came to know the Cancer Center and its staff very well over five days of radiation for six weeks, followed by weekly sessions of chemotherapy.
"I knew two other fellas that had the same cancer. Their doctors loitered, they didn't do nothing and they both passed away. It's quite a thing, I'm alive and they're gone but the reason I'm alive is because I went to doctors that did something."
Willis refused to settle for a diagnosis he did not agree with, instead he advocated for his own health and sought a second opinion.
"Second opinions are vital. Get a second opinion. Talk to someone else. It was nice to talk to Dr. Merrill but it was also nice to talk to Dr. Tarantolo. And when those two fellas both agreed, that helped me."
As a cancer survivor, Willis stresses the importance of paying attention to your own health and seeking care when something isn't right.
"Out in the agriculture world there are some really bad plants and they travel in mud and on vehicles and the seed fall off and they are very aggressive, they're like cancer to the land. So in the agriculture industry, we have this thing called EDRR – early detection rapid response. You see it, you fix it and you need the same thing in the cancer industry."
Lawrence: Not-so-Sudden Skin Cancer
Lawrence Boram is no stranger to cancer. As a radiation oncology registered nurse in the Cancer Center, he sees various cancer diagnosis every day, but that did not
prepare him to deal with his own.

Lawrence had a skin lesion in the very middle of his back, ​"That lesion has been on my back for at least 30 years if not my whole life," he recollects.
"My dad happened to notice it in July, it's in the middle of my back so not a lot of people see that. But my dad noticed it and he said ​'wow that looks kind of suspicious you should go check that out', so I said okay but I wasn't very concerned."
He asked a colleague to look at it and their sentiments echoed his father's, ​'go see a dermatologist'. Still not too concerned himself, Lawrence dragged his feet.
Finally coming around, he scheduled an appointment to see Ivinson Medical Group's Rebecca Carron, Nurse Practitioner of Dermatology.
"I met with her in December and she looked at the lesion for about one second and was concerned and decided to take a biopsy. The results came back, she called me and I heard the word melanoma over the phone and my stomach did actually drop."
Lawrence was diagnosed with a malignant melanoma, the most serious type of skin cancer.
"I was not thinking it was going to be melanoma because you don't know until you do."
He was quickly scheduled to see IMG's general surgeon Dr. Ullrich about removal options.
"I kept on getting relatively bad news. When the biopsy results came back I was really hoping for a basal cell carcinoma, which is a lot less virulent than melanoma. So I got bad news there. Then when I met with Dr. Ullrich I was hoping that he was going to tell me that he could just excise this in his office but no. He looked at it and right then and there decided that it was going to need to be excised via surgery in the OR."
Two weeks later, Lawrence was prepped and put under to have his skin lesion excised in the operating room. A significant amount of skin was removed in order to achieve clear margins, which pathology results proved were clear. Dr. Ullrich was able to remove the cancer, and performed a skin graft from Lawrence's thigh to cover the tissue on his back.
Lawrence was able to avoid all chemotherapy and radiation with his successful surgery.
"It has heightened my awareness of the importance of screening. One thing I've learned from this, is in hindsight, I would have gotten this checked sooner. I did ignore it too much. I would suppress it. I denied it. I could have been a lot more proactive and a lot more aware."
Lawrence will now follow up yearly for dermatological skin checks, and encourages others to do the same. Those living at higher elevations are at increased risk of developing skin cancer due to being exposed to more UV radiation.
Karen: Not too Young for Breast Cancer
At age 45, Karen Davis did not have any health concerns so she saw no need to follow up with a primary care provider regularly, and then she was diagnosed with stage 3 breast cancer.
"I've basically been healthy most of my life. This started out and I thought I had a heat rash. I self-medicated, just ointments and stuff like that. That was in June
or July. August 23rd, I'll never forget it, I came home from work one day took my bra off and it just felt wrong. I put my hand up and a mass literally the size of my
hand had developed like that," Karen snapped her fingers.
She immediately knew something was wrong. She turned to her neighbor, who had a recent bout with breast cancer, and she recommended Karen to her Nurse Practitioner. Karen had an appointment a few days later that led to more questions than there were answers, that was when she was sent to Ivinson.
"We did the ultrasound and the tech asked me to hang around so we waited a little bit and she looked at me and said ​'we need you to be here tomorrow for a mammogram and a biopsy'. I started crying and said, it's not an infection and she said, ​'no baby it's not'. So I knew then. I came in the next day and had the mammogram and biopsy and they said it would be 3 – 4 business days before I got the diagnosis they called me the next day and said you have breast cancer."
Karen was armed with an Avenger worthy care team, made up of Cancer Center providers, staff and general surgeon Dr. Ullrich.
"I never thought about leaving town. They set everything up through the Cancer Center. I had my first consultation here. They took me through, showed me everything and I was like, ​'yes.' Just meeting everyone one time, I knew that this was the place for me. There's some amazing people here."
Karen, who had never had a mammogram before August, was then scheduled to have several more.
"Knowing my history, my maternal aunt had breast cancer," Karen admits she had shrugged it off,"but it can happen that quick. I strongly urge women, get tested, no matter what. Test early if you feel the need because it can sneak up and bite you, which this did."
Karen was put on an aggressive treatment plan, she was being seen every two weeks for three hour treatments before switching to a weekly regimen.
"This," Karen said pointing around cancer center and at staff, ​"This is why I have such a positive attitude. It's amazing. I would tell anyone that if anything like this ever happens to you, you go right here."
Karen recently received her last chemotherapy treatment until after her surgery. She is anxious to return to work and her daily life before cancer, but she now
carries with her, her story of the importance of cancer screenings.
"Early detection is important. I couldn't emphasize that more. If it's preventable before it gets to this point, go do it. If you feel anything different in your body, if you feel weaker or you just don't feel good, or those bumps that come up that don't go away, go get tested. Don't wait, because you'll regret it."
Lisa: Experienced Nurse Practitioner
Lisa Painter, an Oncology Nurse Practitioner in the Cancer Center has been helping patients with cancer for over 17 years. Her number one piece of advice to patients is to pay attention to your body and your symptoms.
"You typically imagine a cancer patient as this skinny, emaciated, sickly person and people really aren't, and then we diagnose them with cancer. People have a lot of hindsight after they are diagnosed and say, I just thought I was tired because I've been working hard, or I was trying to lose weight, or I was moving some furniture so I hurt my back."
Lisa advises that patients see their doctor regularly and have open conversations about their health as well as about the health of their parents and grandparents.
"People really have to pay attention to family history as we learn more and more about genetics. If your mom had breast cancer and her mom had breast cancer, you have a 50% chance of inheriting it if it was a genetic mutation. An important thing is to learn as much as you can about family history. It's all about the number of cancers and the age of diagnosis that tell us if you might need some genetic testing."
Things like family history can help doctors determine your risk of certain cancers. Those with higher risks may be asked to screen for cancer earlier than standard recommendations.
"There a lot discrepancies about when to start mammograms or other screenings. In the oncology world, we believe women should start mammograms at age 40 and have them yearly. I think baseline at 40 is never a bad idea."
But mammograms are not the only screening, cancer screenings take many forms, there are lab tests, skin checks, colonoscopies and pap smears, just to name a few routine screens. In men, Lisa follows National Comprehensive Cancer Network guidelines that recommends men between 45 and 75 have a Prostate Specific Antigen (PSA) screening done, to test for prostate cancer.
"PSA's are also another one that is very controversial, do we do them? When do we do them? Who do we do them for? I think higher risk people should get them done more frequently, it used to be 50 when they started them, but if you have a family history of prostate cancer you should get screened earlier."
There are other guidelines that are more cut and dry, such as for colon cancer screenings.
"You have to have a colonoscopy at 50," says Lisa. ​"The deal about colon cancer is starting around age 50, we start making polyps. Polyps are benign things that grow
inside the colon. If we let them sit in there for they suspect 7 – 10 years, they can turn into a cancer. You would never in a million years know you had a polyp. So the
idea of a colonoscopy is to go in, look, remove the polyps that are potentially going to grow and not get metastatic colon cancer. Most of the people with metastatic colon cancer present with rectal bleeding because it's already a problem. So colon cancer screening at 50 is the rule forever for everyone."
Lisa recommends following cancer screening guidelines and not neglecting symptoms that something is off.
"With cancer screenings and early detection we can catch patients early and prevent advanced cancers, advanced cancers are a whole other animal. Early screenings find disease early so that it can be curable."
Schedule an appointment to meet with your primary care provider and discuss your risks for cancer. That small step, can turn out to make a world of difference.