Patient Story
Written by Breann Lujan-Halcon
I Am And I Will
Cancer may have snuck up on these survivors, but they fought, and won.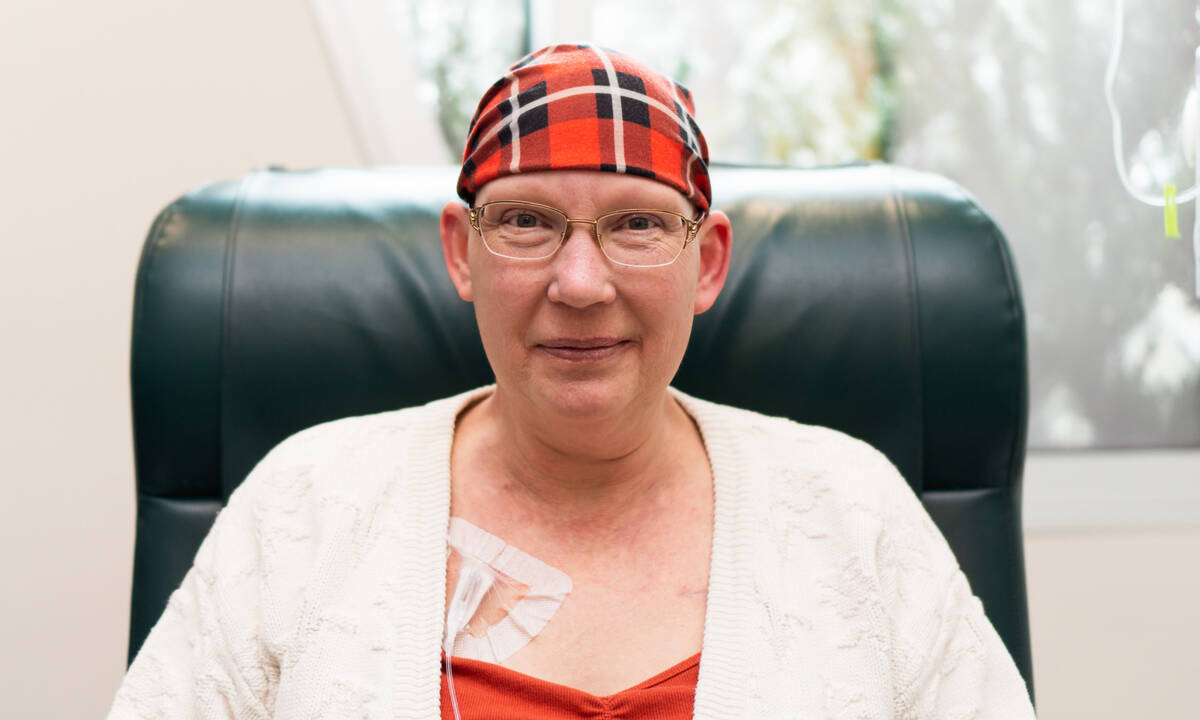 Every can­cer diag­no­sis is dif­fer­ent, every patient, treat­ment and out­come differs.
We sat down with patients and staff of the Mered­ith and Jean­nie Ray Can­cer Cen­ter to hear their sto­ries. For these sur­vivors, their sto­ries share a com­mon theme- they acted.
Willis: Colon Can­cer Survivor

Willis Williams fought and won his fight against colon can­cer, but it took per­sis­tence and lis­ten­ing to his gut.
"Back in 2005, I had some bleed­ing. I took it to two doc­tors and they told me it wasn't a con­cern," Willis rec­ol­lects. ​"It got worse, so I took it to Dr. Nachti­gal. He said, let's do a colonoscopy." Willis was 47 and he had nev­er had a colonoscopy in the past. His pre­vi­ous doc­tors told him he was deal­ing with hem­or­rhoids. Dr. Nachti­gal, a local gen­er­al sur­geon, was about to find out that it was not just hemorrhoids.

"Dr. Nachti­gal is a very upfront per­son and he said, you have colon can­cer, we need to deal with this soon." Willis, who was born and raised in Elk Moun­tain on a ranch his whole life, had dri­ven 65 miles into town that day to receive that news. Know­ing that the ranch life slows down for no one, Dr. Nachti­gal called the Mered­ith and Jean­nie Ray Can­cer Cen­ter. It was there that Willis was put in touch with Dr. Mer­rill, the Med­ical Direc­tor of the Can­cer Cen­ter at the time. Willis was in to see Dr. Mer­rill that same afternoon.

"There was great con­cern thatthe can­cer had jumped tract and had mutat­ed but it hadn't so then they jumped right on a pro­gram, start­ed radi­a­tion. I went through
6 weeks of radi­a­tion and chemo pills and then after that I went to Oma­ha to a colon rec­tal can­cer place where they operated."

In Oma­ha, Willis saw hema­tol­ogy and oncol­o­gy spe­cial­ist, Dr. Taran­to­lo for high lev­el test­ing and colon surgery.
"Dr. Mer­rill told me, his first com­ment was, ​'I can cure this but you're not going to like it. But we can cure this', so I had great con­fi­dence in him."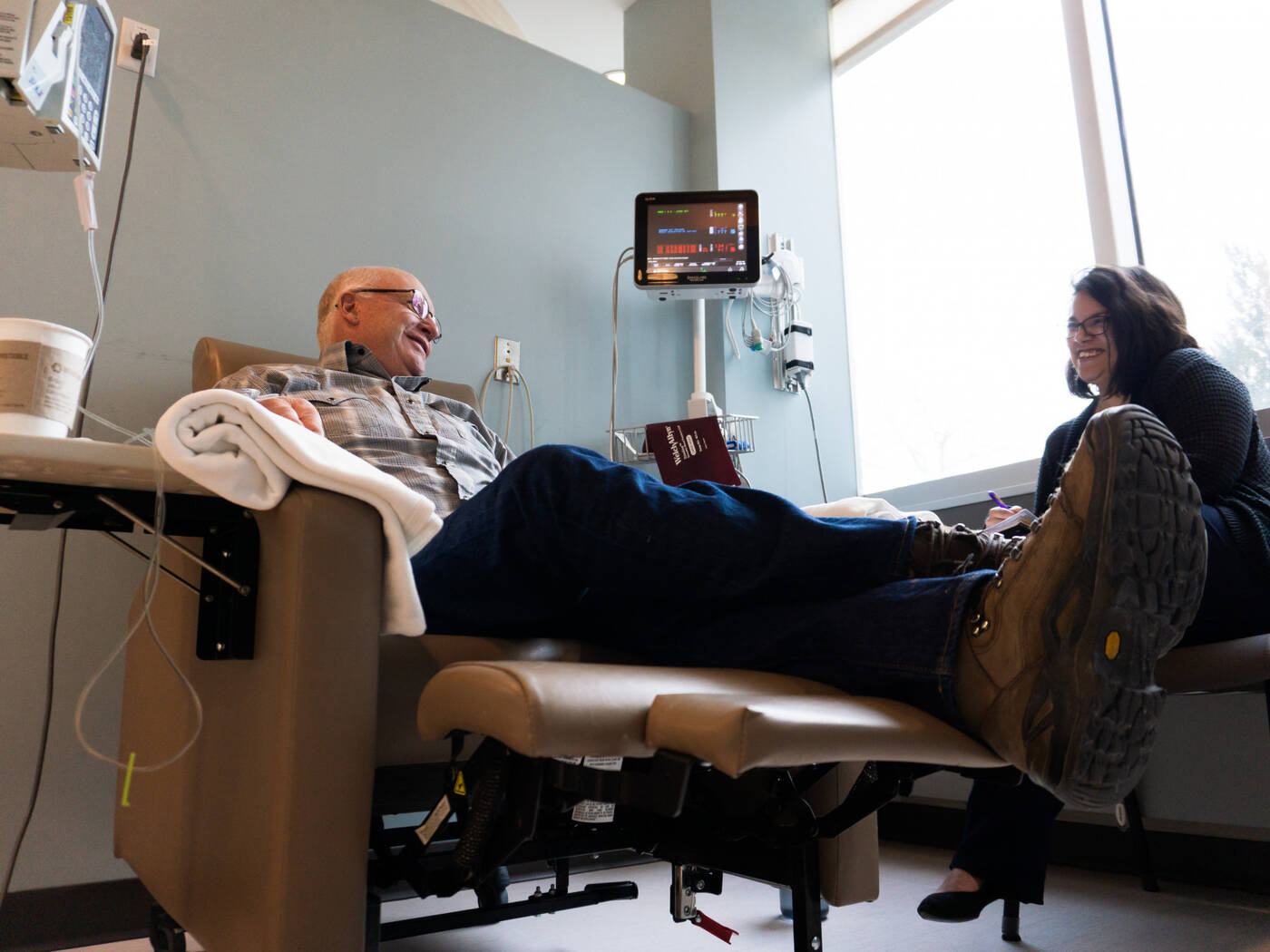 Willis came to know the Can­cer Cen­ter and its staff very well over five days of radi­a­tion for six weeks, fol­lowed by week­ly ses­sions of chemotherapy.
"I knew two oth­er fel­las that had the same can­cer. Their doc­tors loi­tered, they didn't do noth­ing and they both passed away. It's quite a thing, I'm alive and they're gone but the rea­son I'm alive is because I went to doc­tors that did something."
Willis refused to set­tle for a diag­no­sis he did not agree with, instead he advo­cat­ed for his own health and sought a sec­ond opinion.
"Sec­ond opin­ions are vital. Get a sec­ond opin­ion. Talk to some­one else. It was nice to talk to Dr. Mer­rill but it was also nice to talk to Dr. Taran­to­lo. And when those two fel­las both agreed, that helped me."
As a can­cer sur­vivor, Willis stress­es the impor­tance of pay­ing atten­tion to your own health and seek­ing care when some­thing isn't right.
"Out in the agri­cul­ture world there are some real­ly bad plants and they trav­el in mud and on vehi­cles and the seed fall off and they are very aggres­sive, they're like can­cer to the land. So in the agri­cul­ture indus­try, we have this thing called EDRR – ear­ly detec­tion rapid response. You see it, you fix it and you need the same thing in the can­cer industry."
Lawrence: Not-so-Sud­den Skin Cancer
Lawrence Boram is no stranger to can­cer. As a radi­a­tion oncol­o­gy reg­is­tered nurse in the Can­cer Cen­ter, he sees var­i­ous can­cer diag­no­sis every day, but that did not
pre­pare him to deal with his own.

Lawrence had a skin lesion in the very mid­dle of his back, ​"That lesion has been on my back for at least 30 years if not my whole life," he recollects.
"My dad hap­pened to notice it in July, it's in the mid­dle of my back so not a lot of peo­ple see that. But my dad noticed it and he said ​'wow that looks kind of sus­pi­cious you should go check that out', so I said okay but I wasn't very concerned."
He asked a col­league to look at it and their sen­ti­ments echoed his father's, ​'go see a der­ma­tol­o­gist'. Still not too con­cerned him­self, Lawrence dragged his feet.
Final­ly com­ing around, he sched­uled an appoint­ment to see Ivin­son Med­ical Group's Rebec­ca Car­ron, Nurse Prac­ti­tion­er of Dermatology.
"I met with her in Decem­ber and she looked at the lesion for about one sec­ond and was con­cerned and decid­ed to take a biop­sy. The results came back, she called me and I heard the word melanoma over the phone and my stom­ach did actu­al­ly drop."
Lawrence was diag­nosed with a malig­nant melanoma, the most seri­ous type of skin cancer.
"I was not think­ing it was going to be melanoma because you don't know until you do."
He was quick­ly sched­uled to see IMG's gen­er­al sur­geon Dr. Ull­rich about removal options.
"I kept on get­ting rel­a­tive­ly bad news. When the biop­sy results came back I was real­ly hop­ing for a basal cell car­ci­no­ma, which is a lot less vir­u­lent than melanoma. So I got bad news there. Then when I met with Dr. Ull­rich I was hop­ing that he was going to tell me that he could just excise this in his office but no. He looked at it and right then and there decid­ed that it was going to need to be excised via surgery in the OR."
Two weeks lat­er, Lawrence was prepped and put under to have his skin lesion excised in the oper­at­ing room. A sig­nif­i­cant amount of skin was removed in order to achieve clear mar­gins, which pathol­o­gy results proved were clear. Dr. Ull­rich was able to remove the can­cer, and per­formed a skin graft from Lawrence's thigh to cov­er the tis­sue on his back.
Lawrence was able to avoid all chemother­a­py and radi­a­tion with his suc­cess­ful surgery.
"It has height­ened my aware­ness of the impor­tance of screen­ing. One thing I've learned from this, is in hind­sight, I would have got­ten this checked soon­er. I did ignore it too much. I would sup­press it. I denied it. I could have been a lot more proac­tive and a lot more aware."
Lawrence will now fol­low up year­ly for der­ma­to­log­i­cal skin checks, and encour­ages oth­ers to do the same. Those liv­ing at high­er ele­va­tions are at increased risk of devel­op­ing skin can­cer due to being exposed to more UV radiation.
Karen: Not too Young for Breast Cancer
At age 45, Karen Davis did not have any health con­cerns so she saw no need to fol­low up with a pri­ma­ry care provider reg­u­lar­ly, and then she was diag­nosed with stage 3 breast cancer.
"I've basi­cal­ly been healthy most of my life. This start­ed out and I thought I had a heat rash. I self-med­icat­ed, just oint­ments and stuff like that. That was in June
or July. August 23rd, I'll nev­er for­get it, I came home from work one day took my bra off and it just felt wrong. I put my hand up and a mass lit­er­al­ly the size of my
hand had devel­oped like that," Karen snapped her fingers.
She imme­di­ate­ly knew some­thing was wrong. She turned to her neigh­bor, who had a recent bout with breast can­cer, and she rec­om­mend­ed Karen to her Nurse Prac­ti­tion­er. Karen had an appoint­ment a few days lat­er that led to more ques­tions than there were answers, that was when she was sent to Ivinson.
"We did the ultra­sound and the tech asked me to hang around so we wait­ed a lit­tle bit and she looked at me and said ​'we need you to be here tomor­row for a mam­mo­gram and a biop­sy'. I start­ed cry­ing and said, it's not an infec­tion and she said, ​'no baby it's not'. So I knew then. I came in the next day and had the mam­mo­gram and biop­sy and they said it would be 3 – 4 busi­ness days before I got the diag­no­sis they called me the next day and said you have breast cancer."
Karen was armed with an Avenger wor­thy care team, made up of Can­cer Cen­ter providers, staff and gen­er­al sur­geon Dr. Ullrich.
"I nev­er thought about leav­ing town. They set every­thing up through the Can­cer Cen­ter. I had my first con­sul­ta­tion here. They took me through, showed me every­thing and I was like, ​'yes.' Just meet­ing every­one one time, I knew that this was the place for me. There's some amaz­ing peo­ple here."
Karen, who had nev­er had a mam­mo­gram before August, was then sched­uled to have sev­er­al more.
"Know­ing my his­to­ry, my mater­nal aunt had breast can­cer," Karen admits she had shrugged it off,"but it can hap­pen that quick. I strong­ly urge women, get test­ed, no mat­ter what. Test ear­ly if you feel the need because it can sneak up and bite you, which this did."
Karen was put on an aggres­sive treat­ment plan, she was being seen every two weeks for three hour treat­ments before switch­ing to a week­ly regimen.
"This," Karen said point­ing around can­cer cen­ter and at staff, ​"This is why I have such a pos­i­tive atti­tude. It's amaz­ing. I would tell any­one that if any­thing like this ever hap­pens to you, you go right here."
Karen recent­ly received her last chemother­a­py treat­ment until after her surgery. She is anx­ious to return to work and her dai­ly life before can­cer, but she now
car­ries with her, her sto­ry of the impor­tance of can­cer screenings.
"Ear­ly detec­tion is impor­tant. I couldn't empha­size that more. If it's pre­ventable before it gets to this point, go do it. If you feel any­thing dif­fer­ent in your body, if you feel weak­er or you just don't feel good, or those bumps that come up that don't go away, go get test­ed. Don't wait, because you'll regret it."
Lisa: Expe­ri­enced Nurse Practitioner
Lisa Painter, an Oncol­o­gy Nurse Prac­ti­tion­er in the Can­cer Cen­ter has been help­ing patients with can­cer for over 17 years. Her num­ber one piece of advice to patients is to pay atten­tion to your body and your symptoms.
"You typ­i­cal­ly imag­ine a can­cer patient as this skin­ny, ema­ci­at­ed, sick­ly per­son and peo­ple real­ly aren't, and then we diag­nose them with can­cer. Peo­ple have a lot of hind­sight after they are diag­nosed and say, I just thought I was tired because I've been work­ing hard, or I was try­ing to lose weight, or I was mov­ing some fur­ni­ture so I hurt my back."
Lisa advis­es that patients see their doc­tor reg­u­lar­ly and have open con­ver­sa­tions about their health as well as about the health of their par­ents and grandparents.
"Peo­ple real­ly have to pay atten­tion to fam­i­ly his­to­ry as we learn more and more about genet­ics. If your mom had breast can­cer and her mom had breast can­cer, you have a 50% chance of inher­it­ing it if it was a genet­ic muta­tion. An impor­tant thing is to learn as much as you can about fam­i­ly his­to­ry. It's all about the num­ber of can­cers and the age of diag­no­sis that tell us if you might need some genet­ic testing."
Things like fam­i­ly his­to­ry can help doc­tors deter­mine your risk of cer­tain can­cers. Those with high­er risks may be asked to screen for can­cer ear­li­er than stan­dard recommendations.
"There a lot dis­crep­an­cies about when to start mam­mo­grams or oth­er screen­ings. In the oncol­o­gy world, we believe women should start mam­mo­grams at age 40 and have them year­ly. I think base­line at 40 is nev­er a bad idea."
But mam­mo­grams are not the only screen­ing, can­cer screen­ings take many forms, there are lab tests, skin checks, colono­scopies and pap smears, just to name a few rou­tine screens. In men, Lisa fol­lows Nation­al Com­pre­hen­sive Can­cer Net­work guide­lines that rec­om­mends men between 45 and 75 have a Prostate Spe­cif­ic Anti­gen (PSA) screen­ing done, to test for prostate cancer.
"PSA's are also anoth­er one that is very con­tro­ver­sial, do we do them? When do we do them? Who do we do them for? I think high­er risk peo­ple should get them done more fre­quent­ly, it used to be 50 when they start­ed them, but if you have a fam­i­ly his­to­ry of prostate can­cer you should get screened earlier."
There are oth­er guide­lines that are more cut and dry, such as for colon can­cer screenings.
"You have to have a colonoscopy at 50," says Lisa. ​"The deal about colon can­cer is start­ing around age 50, we start mak­ing polyps. Polyps are benign things that grow
inside the colon. If we let them sit in there for they sus­pect 7 – 10 years, they can turn into a can­cer. You would nev­er in a mil­lion years know you had a polyp. So the
idea of a colonoscopy is to go in, look, remove the polyps that are poten­tial­ly going to grow and not get metasta­t­ic colon can­cer. Most of the peo­ple with metasta­t­ic colon can­cer present with rec­tal bleed­ing because it's already a prob­lem. So colon can­cer screen­ing at 50 is the rule for­ev­er for everyone."
Lisa rec­om­mends fol­low­ing can­cer screen­ing guide­lines and not neglect­ing symp­toms that some­thing is off.
"With can­cer screen­ings and ear­ly detec­tion we can catch patients ear­ly and pre­vent advanced can­cers, advanced can­cers are a whole oth­er ani­mal. Ear­ly screen­ings find dis­ease ear­ly so that it can be curable."
Sched­ule an appoint­ment to meet with your pri­ma­ry care provider and dis­cuss your risks for can­cer. That small step, can turn out to make a world of difference.
sign up for our email newsletter