Patient Story
Written by Breann Lujan-Halcon
Little Spurs of Surprise
Kim Rom­sa had spent nine months plan­ning for her big day, the day she and her hus­band, Quade would meet their new baby. As the days lead­ing up to her due date dwin­dled, the pres­sure of labor and deliv­ery mounted.
"That par­tic­u­lar day was the one day I didn't pre­pare," Kim recalled of the rou­tine pre­na­tal vis­it. ​"I didn't feel that I was ready."
Kim had been see­ing each of the providers at Ivin­son Med­ical Group's Women's Health Clin­ic. Near­ing the end of her preg­nan­cy, she had been sched­uled to be induced the fol­low­ing Mon­day. After her vis­it with Dr. Saman­tha Her­riott that Fri­day, her time­line was quick­ly moved up. Kim instant­ly swelled up with fear.
"I will see you through it," Dr. Her­riott reas­sured her. ​"I will take care of you. I will make sure that every­thing is great and we will get through this together."
And that is exact­ly what they did.
Where Care Feels Like Home
Kim had pre­vi­ous­ly worked at Ivin­son but had not been seen as a patient until she learned she was expecting.
"I was actu­al­ly real­ly ner­vous," Kim said of begin­ning her pre­na­tal care. ​"Most peo­ple, I think, are real­ly excit­ed for that stage of life and I was excit­ed to be a mom but I was real­ly ner­vous about the whole process of actu­al­ly hav­ing a baby, preg­nan­cy and even the post-par­tum care."
For her fam­i­ly, there was no ques­tion about where she would receive care. Kim has called Laramie home since col­lege and her hus­band, his whole life. Kim, who had worked in both the Ivin­son Foun­da­tion and the emer­gency room, knew she trust­ed her family's care to Ivinson.
"I worked in the ER, I saw that every­one is equal," Kim said. ​"Every­one that comes in, no mat­ter who they saw, every­one gets great treat­ment and I think that it's the same on every floor."
It was impor­tant to Kim and her fam­i­ly that they stayed close to home, where they were greet­ed by name and their care was per­son­al­ized to their needs.
Halfway through her preg­nan­cy, it was dis­cov­ered that Kim had pla­cen­ta pre­via, a low lay­ing pla­cen­ta. Although caught ear­ly, the con­cern made her preg­nan­cy a high-risk case.
"They caught on to it very quick­ly," Kim said of the small scare. ​"They knew exact­ly how to take care of that. It end­ed up fix­ing itself." After dis­cussing her options, Kim was able to con­tin­ue her care at Ivin­son Med­ical Group. ​"Orig­i­nal­ly, when I found out I had a pre­via, we talked about pos­si­bly see­ing a spe­cial­ist to treat the high risk and I was kind of bummed. I want­ed to stay in house. I didn't want to go any­where else. I love Laramie, I felt at home here."
It's Your Birthday
Lead­ing up to the big day, Kim was under week­ly obser­va­tion. Fol­low­ing a rou­tine pre­na­tal vis­it and test­ing, Dr. Her­riott deter­mined it was time to admit Kim, it was time to have a baby.
"I was scared because I didn't want to be passed around," Kim said. ​"What's going to hap­pen now if I go up to the floor? Will I have to wait to see? Do I have time to go anywhere?"
With­out miss­ing a beat, Dr. Her­riott put her wor­ries to rest. She reas­sured Kim that the Fam­i­ly Care Unit was expect­ing her, her nurs­es were lined up and the anes­thetist was ready to go. Today was the day they would meet their baby.
"I knew that she was going to see me through the rest of it," Kim said. ​"I didn't have to wor­ry about going to meet some­one new and hav­ing them under­stand where I was at with the deliv­ery and the labor. She was just going to take care of me."
Kim was placed in a wheel­chair and trans­ferred to the Fam­i­ly Care Unit where her care team and Dr. Her­riott were ready for her.
"Going from the clin­ic straight over to the floor was per­fect," Kim said. ​"I just felt like it was very spe­cial. It was like my birth­day too. It was like a cel­e­bra­tion rather than a treat­ment. It actu­al­ly is the exact oppo­site of what I would have pic­tured a deliv­ery being like."
Set­tled into her labor and deliv­ery suite, it was time to wait. Being Kim's first child, it was expect­ed that it would be some time before things pro­gressed. 30 min­utes lat­er, that pro­gres­sion moved rapidly.
"I just remem­ber think­ing, okay I think it's time but I'm not ready because it hap­pened too fast," Kim said when a nurse told her she was ful­ly dilat­ed and it was time to push. ​"I thought I'd have all this time to read a mag­a­zine and smell essen­tial oils or what­ev­er you read about what oth­er peo­ple do. It just hap­pened so quickly."
It was time to have a baby.
The cou­ple had agreed to remain ​"team green" and elect­ed not to learn the baby's sex through­out Kim's pregnancy.
"We didn't know what we were hav­ing," Kim said, of mak­ing her deliv­ery a sur­prise. Dr. Her­riott, not want­i­ng to risk spilling the beans, chose to be sur­prised with the new par­ents. ​"That was real­ly fun too because none of us knew."
Lot­tie Miche­le­na Rom­sa was born 6 lbs 1 oz and 19 ½ inch­es long. Kim's feel­ings of appre­hen­sion imme­di­ate­ly van­ished when she held her baby girl in her arms for the first time.
"There was just so much joy," Kim said of those first hours with her new lit­tle fam­i­ly. ​"I can't even explain that feel­ing until it hap­pens. You don't even real­ize how much love you can have."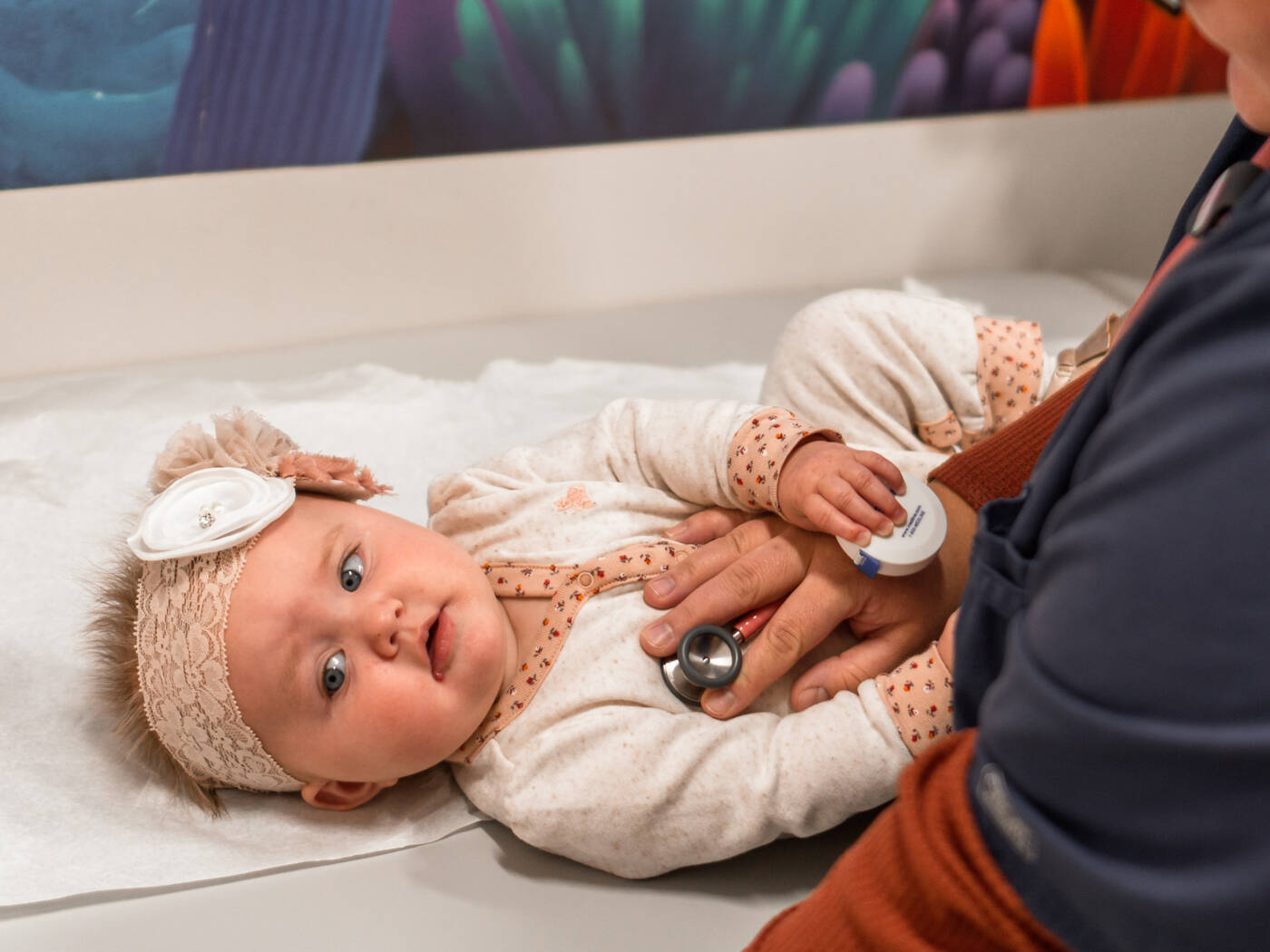 Hel­lo Motherhood
The next time Kim was at Ivin­son Med­ical Group, she came in with lit­tle Lot­tie to show for all her vis­its prior.
"It was fun to final­ly have a lit­tle appoint­ment with Lot­tie. She had a great first appoint­ment," Kim said. ​"Breast­feed­ing was going well and they offered a lot of help. We were able to go into a sep­a­rate room and just work on lac­ta­tion which was real­ly great."
In between sched­uled vis­its, Kim and Quade noticed Lottie's oxy­gen sats drop­ping. The fam­i­ly used an Owlet sock to mon­i­tor her heart rate and oxy­gen. When her oxy­gen dropped severe­ly, the new par­ents called for help.
"We brought her in and right away Dr. Koduri knew what was going on," Kim said. ​"She was extreme­ly calm and extreme­ly friend­ly. She could tell I was hon­est­ly break­ing down. I had tears in my eyes. I was wor­ried. I kept think­ing that we didn't come in soon enough. How long had she been strug­gling? Had she been low on oxy­gen? And she reas­sured me that it was very com­mon. It was some­thing that was easy to fix and they would take care of her immediately."
In the Pedi­atric and Fam­i­ly Care Clin­ic, Lot­tie wasn't the only patient being cared for. Dur­ing a pedi­atric vis­it, a nurse checked in with Kim as well, who revealed she hadn't been feel­ing well.
"Right away they sent one of the OB nurs­es over to rem­e­dy what was going on with me," Kim said. ​"That was so nice because I don't think I would have tak­en the time to go take care of myself when I'm tak­ing care of a new baby."
IMG's pedi­atric and fam­i­ly care team rou­tine­ly work with the women's health team to ensure that both mom and baby are well cared for. Both clin­ics are housed on the third floor of the Med­ical Office Build­ing at Ivin­son, mak­ing their team­work a seam­less transition.
"We have a hid­den lit­tle gem here at Ivin­son," Kim said of her entire care expe­ri­ence. ​"They treat you like you are one of their own. And that is the main rea­son that I loved Ivin­son, because of the way I was treat­ed. When you don't feel good or you have some­thing going on, you want to feel at home and you want to feel like you know who is tak­ing care of you. And that's how I feel at Ivinson."
Kim, Quade and Lot­tie con­tin­ue to be cared for at Ivin­son, from emer­gency room vis­its to rou­tine care. The Rom­sas are learn­ing togeth­er every day as Lot­tie con­tin­ues to sur­prise them. For Kim and Quade, they are lov­ing every minute.
"It is the great­est gift that you nev­er knew you need­ed," Kim said of becom­ing a moth­er. ​"It's the gift that keeps giv­ing, but I nev­er knew I was miss­ing out until I had her."
Breann Lujan-Halcon
Communication Specialist
email
Breann Lujan-Halcon is a writer and marketing professional for Ivinson. Breann began her career at Ivinson in 2015 as an office specialist and worked full-time while earning her Bachelor of Arts degree in Journalism from the University of Wyoming. She graduated from UW in 2017 and made the jump to Ivinson's marketing team shortly after.
sign up for our email newsletter