Patient Story
Written by Breann Lujan-Halcon
One of a Kind Care
For this free range family, personalized healthcare is more important than ever, that is why they choose Ivinson.
Dur­ing a glob­al pan­dem­ic, many fam­i­lies find them­selves delay­ing health­care. For Colter Kirlin's fam­i­ly, that is not an option.
Colter, the youngest mem­ber of the Kirlin/​Chadwell fam­i­ly, was born with a rare syn­drome called Beck­with-Wied­mann Syn­drome (BWS), an over­growth syn­drome that affects about 1 in 11,000 infants. Due to his rare diag­no­sis, Colter's spe­cial­ty care team spans mul­ti­ple facil­i­ties across the coun­try – from Children's Hos­pi­tals in Col­orado and Philadel­phia, all the way to Mia­mi where he has seen mul­ti­ple spe­cial­ists for con­sults and surg­eries. When they are home on their ranch out­side of Laramie, Colter's mom, Jen­nifer Chad­well, choos­es Ivin­son for their family's pri­ma­ry health­care needs.

"When my water broke at 34 weeks, I imme­di­ate­ly went to Ivin­son with my fiancé and my daugh­ter who was 11 at the time. The nurs­es were incred­i­ble. When it was known I would have to be sent to Ft. Collins, my daugh­ter broke down in tears and was scared for me. That ​'good­bye' and ​'see you in a lit­tle bit', was one of the hard­est things I've had to do," Jen recalled. ​"The nurse took her back to a mag­i­cal room where she got to pick out a hand­made blan­ket and stuffed ani­mal. She still has them and she still talks about that expe­ri­ence to this day."
Colter spent the first month of his life in a Col­orado NICU before return­ing home on oxy­gen. At two months, Colter was diag­nosed with laryn­go­ma­la­cia, a soft or flop­py air­way that caus­es noisy breath­ing. It was clear to Jen that Colter need­ed a provider that could keep up with his fre­quent hos­pi­tal vis­its and grow­ing list of spe­cial­ists. That was when she sought out Dr. Dai­va Olipra, a Pedi­atric and Fam­i­ly Care provider at Ivinson.
"We love Dr. Olipra to pieces. I could not ask for a bet­ter provider. She takes his care very seri­ous­ly and checks in on him often," said Jen, regard­ing trans­fer­ring his pri­ma­ry care to Ivin­son Med­ical Group. ​"She has nev­er been uneasy about any aspect of his care. She will see him same day. I have nev­er had any prob­lems with get­ting him in emer­gent­ly, which I am super thank­ful for."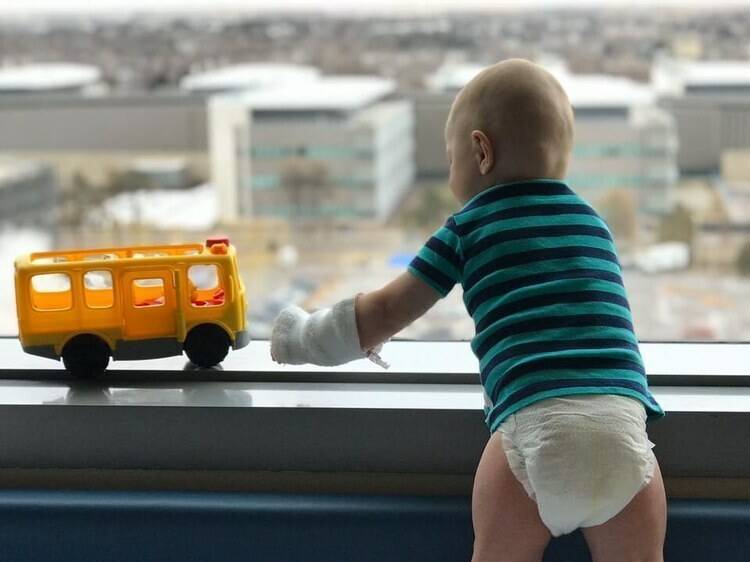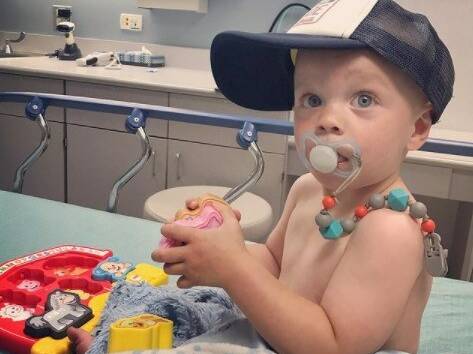 Jen and Colter have become well acquaint­ed with Ivinson's emer­gency room, due to the var­i­ous res­pi­ra­to­ry issues that Colter fre­quent­ly experiences.
"They def­i­nite­ly know Colter," Jen said. ​"We are in the ER there at least once a month."
Since COVID-19 pre­cau­tions took place, Jen has found some ques­tions hard­er to answer than in pre-COVID times. Health screen­ing ques­tions that look for symp­toms of COVID-19 (trou­ble breath­ing, cough and short­ness of breath) are more of a base­line for Colter than a new symptom.
"That's just Colter," Jen explains. ​"But then I say, ​'it's Colter Kir­lin' and they're like, oh, just bring him in! Ivin­son has been a bless­ing because they know Colter here and they real­ly are thor­ough with every­thing. To have that trust helps immensely."
The famil­iar­i­ty has been bless­ing for Colter and his par­ents, who try to uti­lize local ser­vices at Ivin­son as often as possible.
"If he ever needs blood work or test­ing in Den­ver, my first ques­tion is always, well can we do it at Ivin­son? I also know that Dr. Olipra is going to see it and it's going to be an extra set of eyes," Jen said.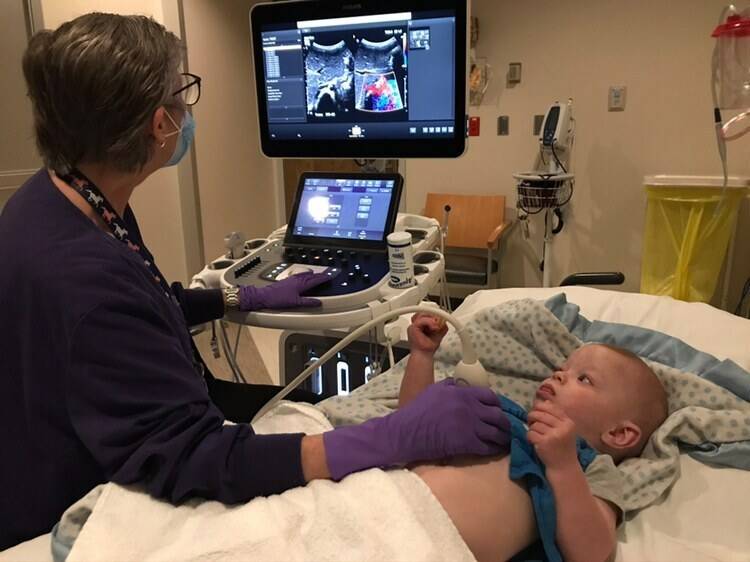 Due to his BWS diag­no­sis, Colter has an increased risk of abdom­i­nal can­cers that war­rant rou­tine abdom­i­nal ultra­sounds and tumor mark­er blood­work every three months.
"Every­body remem­bers him," Jen said of the out­pa­tient radi­ol­o­gy and lab­o­ra­to­ry team that check up on Colter quar­ter­ly. ​"When we come in they always remem­ber that we have to do the ultra­sound first, because if we do the blood work, then he's going to be too worked up."
Jean, a diag­nos­tic med­ical sono­g­ra­ph­er at Ivin­son, has played a con­sis­tent role in Colter's care, and per­forms his quar­ter­ly ultra­sound for him when he comes in for a visit.
"I do love that we always get Jean for the ultra­sounds, she always remem­bers Colter," Jen said. ​"While he's get­ting his scan, it's hard for a tod­dler to lay there for 20 min­utes, but she plays with him and they sing and she makes it fun. It feels like a fam­i­ly when we are here."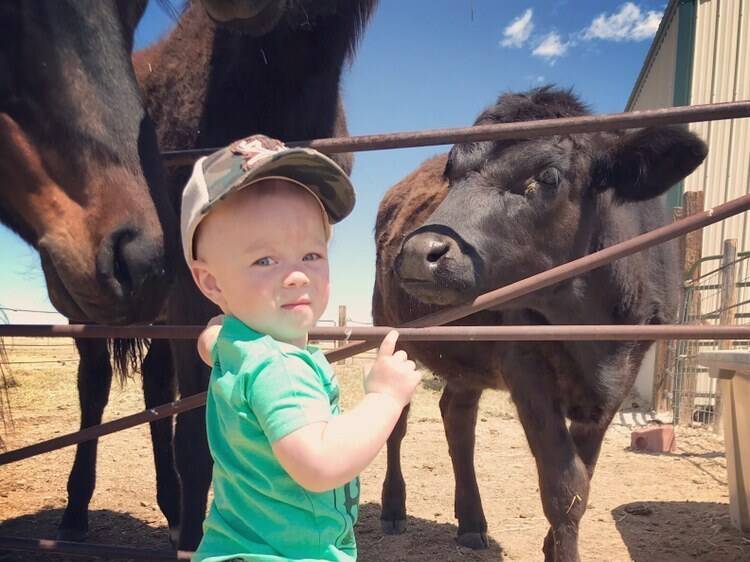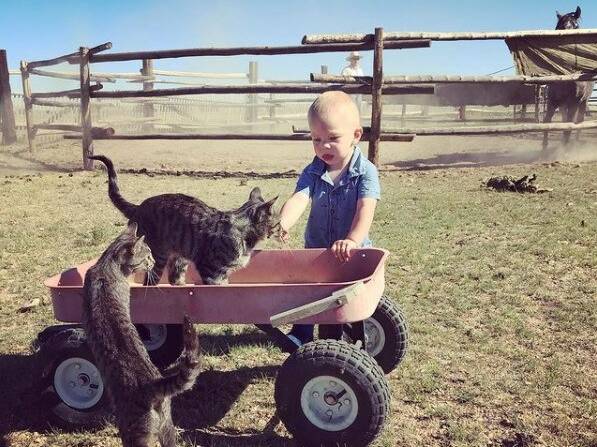 In between appoint­ments, Colter and his fam­i­ly enjoy their ​'home on the range' lifestyle where Colter has picked up on mak­ing real­is­tic ani­mal sounds from his friends that have fur and feathers.
"We still try to make things as nor­mal as pos­si­ble and I real­ly feel like that has ben­e­fit­ed him. He will come out with us and help in his own lit­tle ways to feed the ani­mals," Jen said of Colter's love for his family's barn cats and help­ing his dad with morn­ing chores.
While BWS makes up a big part of Colter and his family's lives, noth­ing has stopped them from liv­ing life to the fullest. Every day they take on new adven­tures and meet new mile­stones. Colter will be two in March. He loves cars, trains and singing, with ​'Old McDon­ald Had a Farm' and ​'Twin­kle Twin­kle Lit­tle Star' among some of his top hits.
"It is very help­ful know­ing that the hos­pi­tal is not too far away if some­thing hap­pens," Jen said. ​"When I call, I'm talk­ing to a real per­son, they know my fam­i­ly, they know Colter, and that makes it bet­ter all the way around."
Want to know how you can help pedi­atric patients at Ivin­son? It's as easy as spread­ing hol­i­day cheer, vis­it our Foun­da­tion's web­site to learn more.
Breann Lujan-Halcon
Communication Specialist
email
Breann Lujan-Halcon is a writer and marketing professional for Ivinson. Breann began her career at Ivinson in 2015 as an office specialist at Ivinson Medical Group and worked full-time while earning her Bachelor of Arts degree in Journalism from the University of Wyoming. She graduated from UW in 2017 and made the jump to Ivinson's marketing team shortly after.
sign up for our email newsletter