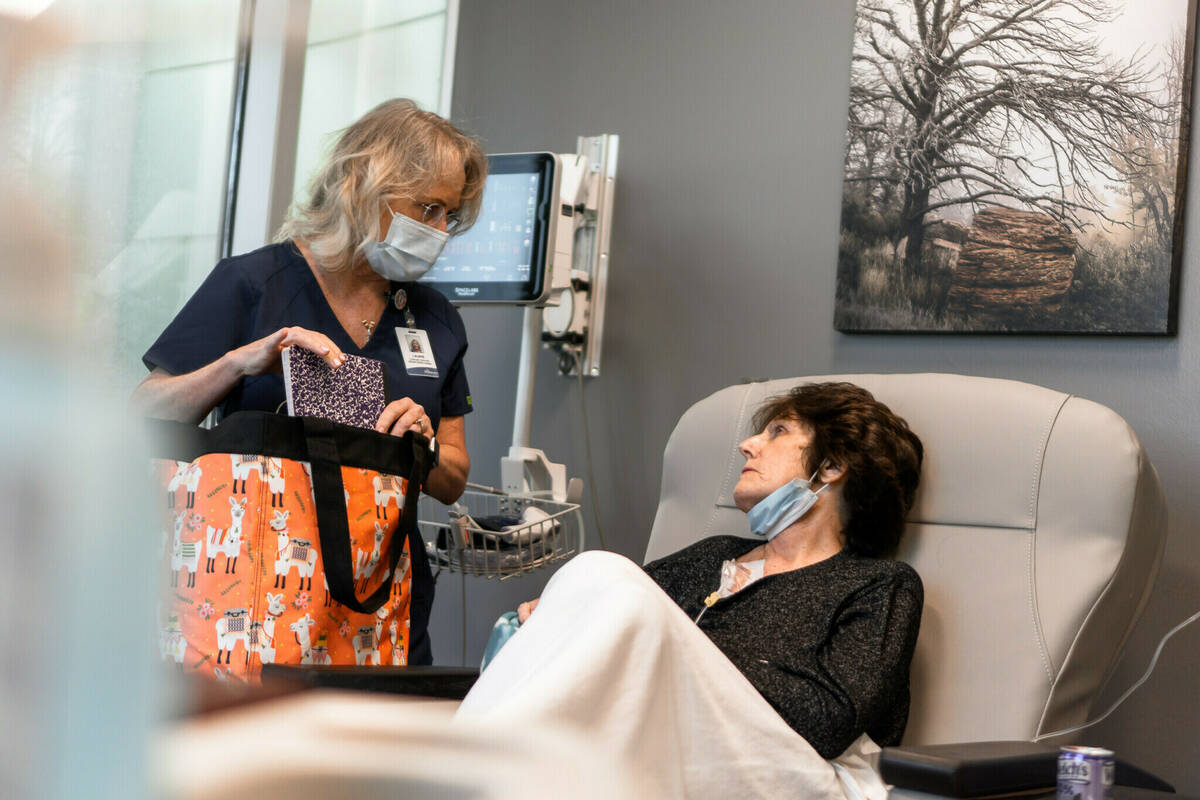 Featured Story
22 October 2021
Beyond Cancer Treatment
Written by Breann May
Growing resources at the Meredith and Jeannie Ray Cancer Center allows patient care to go beyond treatment
Grant funding awarded to the Meredith and Jeannie Ray Cancer Center has created growing resources to cancer patients, going beyond radiation and infusion treatments.
At Ivinson, we are committed to healing our community with, compassionate, inclusive care of the whole person. Ivinson's Cancer Center with help from rehabilitation, has created programs that are dedicated to that healing throughout the continuum of cancer care.
Funding granted by the Wyoming Breast Cancer Initiative has created and sustained Ivinson's Surviving and Thriving After Cancer (STAC) program, Jeannie's Boutique and newly implemented Oncology Nurse Navigator program. These programs provide valuable resources to patients from prevention, navigating treatment and helping patients on the road to recovery and into survivorship.
Ivinson's Nurse Navigator Program is giving patients a powerful tool to help them through their healthcare journey, someone to lead the way. That someone is Oncology Nurse Navigator, Laurie Heath.
"Nurse Navigation is a new program that we started here at the Cancer Center. A navigator will meet with a patient right when they are diagnosed with cancer, particularly a breast cancer patient," Laurie explained of her role. ​"When they have been told they have cancer, I will contact them and be that person that can help them through the journey of cancer and the treatment and survivorship."
Programs like the Oncology Nurse Navigator program look to fil in the gaps for cancer patients, helping outside of scheduled treatment. They provide support, community, resources and empower patients beyond their cancer diagnosis.
"The best part about our Cancer Center is that we are very people and patient centered," Laurie said. ​"We have an incredible staff that cares about you as a patient and care about doing the right thing. Our cancer center team is extremely qualified."
Working with patients receiving chemotherapy and radiation treatment, the Cancer Center team has taken healing beyond the treatment room and has dedicated resources to caring for patients dealing with other effects of cancer treatment.
Jeannie's Boutique was established with WBCI funds with the purpose of addressing vulnerability and body image for breast cancer patients. Founded to help breast cancer patients who have undergone mastectomies, lumpectomies or breast reconstruction, the program has since expanded to provide services and products to all cancer patients.
The boutique specializes in professional fittings for all of the prosthetics they offer and helping patients restore confidence in their own body image.
"It can be very helpful to your self-image and how you feel about yourself," Laurie said explaining the varying options they have for patients receiving breast cancer treatment. ​"If you chose to not have reconstruction, we have quality specialty silicone prosthetics and silicone bras that will help fill out the breasts and can help you feel like you have breasts again. It's been very positive and very well received. We really encourage women to come and take a look, see what we have to offer and try things on."
The boutique provides cancer patients across south eastern Wyoming with cost-free specialty services and products with funds granted by the state and from the Wyoming Breast Cancer Initiative. The boutique features products such as wigs, head coverings, camisoles, silicone prosthetics, prosthetic bras and lymphedema prevention sleeves.
"We really hope that we can help patients who have gone through any kind of cancer when they lose their hair," Laurie said. ​"We hope that we can provide a service that gives them a little lift and helps them through that very difficult time."
For all cancer patients that may lose their hair due to cancer treatment, Jeannie's Boutique offers wigs available to both men and women.
"The ultimate goal of our boutique is to help the patient feel better about themselves," Laurie said. ​"As they are going through cancer there are so many changes that can happen. This is one small way that we can help them feel better and to take that worry away from them."