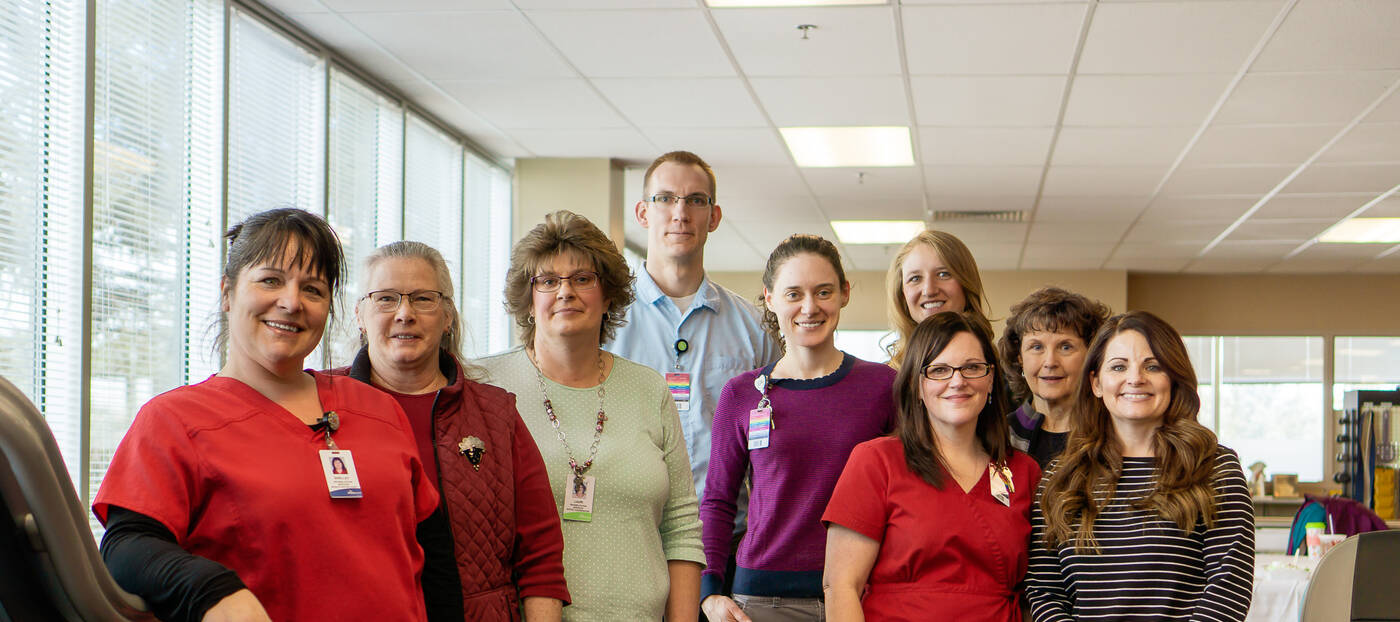 outpatient main line
(307) 755-4730
Monday – Friday except holidays
8:00am – 5:00pm by appointment only
inpatient main line
(307) 755-4728
Seven days a week
8:00am – 5:00pm by appointment only
Dedi­cated to provid­ing effec­tive and compas­sion­ate reha­bil­i­ta­tion services to restore qual­ity of life and achieve opti­mal func­tion that contributes to the phys­i­cal, psycho­log­i­cal, and social well-being of our patients.
The Ivin­son Memo­r­ial Hospi­tal Reha­bil­i­ta­tion Services Depart­ment is commit­ted to provid­ing all of our patients with the very best patient centered care and the top evidence-based prac­tices in t he indus­try. All of our ther­apy programs are one-on-one and designed to specif­i­cally assist each patient in reach­ing their reha­bil­i­ta­tion goals. Your health and satis­fac­tion is our number one priority.
Our Outpa­tient Reha­bil­i­ta­tion Clinic over­looks the Laramie Valley and the Snowy Range Moun­tains. All of our outpa­tients receive one-on-one special­ized profes­sional care in a top rate facil­ity that was constructed in 2004. We provide private treat­ment rooms and a spacious clinic with a vari­ety of ther­a­peu­tic treat­ment approaches and work­out equip­ment to meet everyone's needs.
insur­ance
Most major insur­ance providers have cover­age plans for phys­i­cal, cardiac rehab — phase II, occu­pa­tional and speech ther­apy services. There are many regu­la­tions and rules regard­ing the amount of ther­apy a patient can receive. We will work with you and your insur­ance provider to ensure that you are able to receive the ther­apy that you need.
talk­ing with your doctor
We commu­ni­cate with your refer­ring physi­cians regu­larly during the course of your treat­ment. The initial eval­u­a­tion and subse­quent re-assess­ment are all sent to your doctor to inform him or her of the ther­apy plan, your goals and your progress with the therapy.
your involve­ment
We encour­age you to actively partic­i­pate in all aspects of the ther­apy plan­ning and program. You are a vital part of the rehab team and help us to set goals for the ther­apy, your avail­abil­ity to attend ther­apy and provide us with infor­ma­tion regard­ing your condi­tion, your progress and how you are feel­ing. After all, who knows your body better than you!